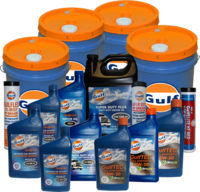 Explore our Gulf and Brad Penn Lubricants — Gulf produces high-quality lubricants that are formulated to exceed today's tough equipment manufacturer standards to keep vehicles, equipment and machinery running. Brad Penn lubricants are high-quality and high performance Pennsylvania Grade Lubricants and 100 percent American made.
We stock a wide variety of industrial grade lubricants including Diesel Motor Oil, hydraulic fluid, transmission fluid, gear oil, grease, Glycol and antifreeze.

By 12 quart cases, 5 gallon buckets, 55 gallon drums, bulk by gallon
Hinds Energy is also a distributor of K100 Fuel Treatments. K100 is made in the USA and treats all gasoline (K100-G & K100-MG) and diesel (K100-D) powered equipment. It is formulated for use with all fuels including E-10, ULSD, Off-Road, Biodiesel, and home heating fuels. K100 Fuel Treatment benefits include:
Eliminates water and all water-related problems
Reduces emissions, black smoke and oil fumes
Stabilizes fuel and keeps it fresh
Reduces maintenance costs and downtime
Extends engine life
Cleans engines and fuel systems for better mileage
Easier starting, smoother idle, more power and better acceleration
Lubricates fuel systems
Burns cleanly and completely leaving no ash deposits
Prevents microbe growth in diesel fuel
Replaces lost lubricity in LSD, ULSD, Off-Road and K-1 winter blend fuels
Increases octane/cetane ratings 1-1/2 to 2 points.