Hinds VIP Rewards - Loyalty Card Program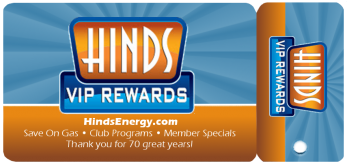 Promotions valid with loyalty card or associated phone number at participating Hinds Marts. Consumer must pay applicable sales tax. Items may vary by location.
CLICK HERE FOR IMPORTANT LOYALTY DETAILS & TERMS AND CONDITIONS
Current Instant C-Store Promotions
April 2019
Store-made subs: 50¢ off
Coffee Refills: 75¢
Quarts of Oil: 25¢ off
King Candy Bars 2/$4.00

Easter (Sunday, April 21st): 50¢ Coffee Refills
May 2019
Hinds Travel Mugs: $3.00
Deli Muffins: $1.50
Pepsi 2 Liters: $2.00
Hershey Bars (reg size): $1.25

Mother's Day (Sunday, May 12): Free 12oz Coffee to all Mom's




Memorial Day (Monday, May 27): Free 12oz Coffee for all military members, past & present
June 2019
Breakfast Sandwiches: Buy one get one for 99¢
Hot Dogs: 99¢
Pure Leaf Teas: 99¢
12oz Coffee: 99¢

Father's Day (Sunday, June 16): Free 12oz Coffee to all Dad's
Reward Clubs
Coffee - Buy 10 Get 1 Free 
Bottled Beverages - Buy 10 Get 1 Free
Store Made Subs - Buy 10 Get 1 Free
Bonus Points
First time use at any H/O Mart - 100 Points
Earn double points every Tuesday at any H/O Mart location.
Pay with Points
Hinds Energy Travel Mug - 1000 Points
Reedeem Points At the Pump
20 gallon maximum on redemptions at the pump.
Cents off Per Gallon            Point Level
            5¢                               500
            10¢                            1000
            25¢                            2500
            50¢                            4600
            75¢                            6800
        $1.00                             9000