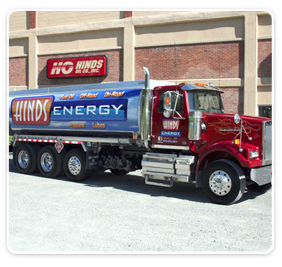 Customers in Susquehanna County, PA; Wyoming County, PA and parts of the Southern Tier of NY have Hinds Energy to thank for their complete comfort needs. But how did it all begin?

If you go ALL the way back, members of the Hinds family were the first settlers in Northeast Pennsylvania. They arrived in the area right after the Revolutionary War, in 1789.

Hinds Energy is a third and fourth-generation family business. Eldred J. Hinds established Hinds Oil Co. Inc. in September of 1944. The business started out in Eldred's home on Locust Street in Montrose, then moved to Cedar Street, and finally to its current location on Post Street in November of 1986.

The company began as a two-person operation with Eldred and his wife Carol. They hired their sons Allyn and Duane, and now their grandsons, Mike, Steve and Jim, are running the company. With over 50 dedicated employees, Hinds Energy is one of the largest employers in Montrose.

What started out as a fuel delivery company has expanded to include propane, heating and air conditioning, sales and service. We also have four Hinds Mart locations: Montrose, Susquehanna (E. Main St.), Susquehanna (Shops Plaza) and New Milford, PA. Our affiliate businesses include the Felix-Hinds Garden Center, Endless Mountain Gift & Gallery, and Endless Sheds, all located in Montrose, PA.

With over 70 years in business serving the residents of Susquehanna and Wyoming counties and parts of the Southern Tier of New York, we are very proud of the professional, courteous service we provide to our friends and neighbors.

Want to learn more about our company? Contact us now.


Our Certifications
We are proud to be affiliated with: